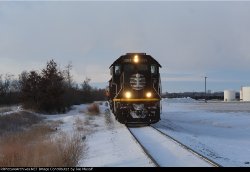 Welcome to the RRPictureArchives.NET contributor site of Joe Musolf.

Hi, my name is Joe Musolf. I have always been fascinated by trains. I have been since I was a kid, My family on my dad's side has been involved in the railroad industry for four generations. Each one of them worked for the Chicago & North Western RR except for my father who worked for the Union Pacific as well as myself who briefly worked for Canadian Pacific on the old DM&E in Southern MN. I grew up in Kenosha, WI but I now reside in Mankato, MN.




My favorite railroad of all time is the Burlington Northern. I'm not sure why, it's just been a favorite of mine since I was little. My other favorites include the Soo Line, Canadian Pacific, Chicago & Northwestern, Illinois Central, I&M Rail Link, DM&E/IC&E, Milwaukee Road and Southern Pacific. I'm also fond of Union Pacific, BC Rail, Santa Fe, and Grand Trunk Western. If you would like to see more of my non-RR related work you can go to the following website: http://racocooper.deviantart.com And if you want to talk to me elsewhere: AIM: racoons85 MSN: theracocooper@hotmail.com



You may browse my collection of pictures via the menu located on the left hand side of the page. I hope you enjoy the collection and thanks for stopping by!